Base Module
The Base Module is installed with all Spinsoft Website Builder licences. Many website can be built entirely with the Base Module, however you can get more features by adding extra modules listed on this page.
Features:
Drag N Drop Page Editor
Website Statistics
Image Library
File Library
Media Library
Form Manager
Template Designer
News Articles with Auto-Archiving
Secure login for any number of administrators
WYSIWYG Rich Text Editing
Includes Managed Hosting
- Quality Australian Servers
- 200mb Diskspace (upgradeable)
- 2,000mb Bandwidth per month (upgradeable)
Membership Module
Requirements: Base Module
Availability: Available Now!
Features:
Manage, add, remove and search for Members
Create groups for your members.
Create custom options for your Members, such as Favourite Colour.
Send basic mailers to your members with multiple scheduling options.
Access control to restrict which Member Groups can view your website pages and download your files
Product Module
Requirements: Base Module
Availability: Available Now!
Features:
Add, remove and edit products
Put products into categories, and select secondary categories
Upload multiple images and files related to each product
Assign classes to products, with class discounts
Search engine friendly URL's for products and categories
Advanced custom product modifiers and attributes (colour, size etc)
Bulk discount price options
List mode editing for products to search and edit multiple products at once
Sell Digital Goods (with eCommerce module)
eCommerce Module
Requirements: Base, Product & Membership Modules
Availability: Available Now!
Features:
Sell digital goods and physical products.
Guest and/or Member checkout system
Extra features for Members such as Order History and My Downloads.
Donation System for charities or non-charity websites
Multiple payment options that can be chosen and customised. Bank Transfer, Cheque, Money Order, COD and gateway payments such as Paypal
Multiple shipping options including a very advanced virtual box packing system to get accurate pricing. There are many different methods including the Australia Post method. Shipping methods can be setup per country.
Setup Order Discounts, Free Shipping and Coupons
Advanced order management list giving you complete control and awareness of the order, payment and shipping status.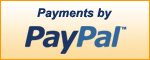 With the eCommerce Module you can accept payments using Paypal. We have integrated Paypal Website Payments Standard which allows your customers to place orders with a credit card or with a paypal account - the best of both worlds!
Newsletter Module
Requirements: Base Module
Availability: Available Now!
The newsletter module can be used with the Base Module, however if you have the Membership Module then you can use some extra features.