Plate Stands of Australia takes their business online
(Archived)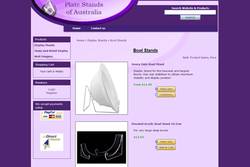 Plate Stands of Australia are a new retail outlet for purchasing plate display stands, book stands, tile stands and even merchandising stands.
This website utilizes the eCommerce module of Spinsoft Website Builder for a complete online shopping experience. Featuring an optional guest checkout (which you can disable), the checkout process is clear and concise.
With the fully featured order list you can easily keep track of order, payment and shipping status - this helps ensure that all of your customers are provided with a prompt and reliable service.
Visit the Plate Stands of Australia website.