New Look for Acceptance Finance 2010
(Archived)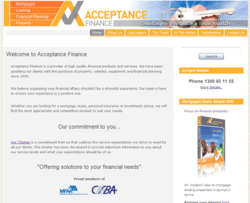 Acceptance Finance decided on a fresh new template for their website in 2010. We designed the template to include a splash page as requested, and created templates to handle each different section of the website (Mortgages, Leasing etc).
Using separate header images for each sections is a great idea as it allows visitors to easily identify which section they are in, and when they change sections.
Be sure to check out the new look Acceptance Finance Website.