Website for Tyreways Bentley
(Archived)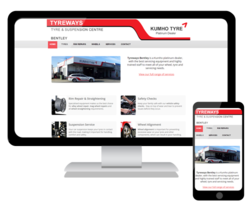 We have launched a new website for Tyreways Bentley!
A Kumho platinum dealer located in Perth, providing a wide range of services for your vehicle, including wheel alignment, brake repairs, steering repairs and more.
With equipment dedicated to rim repairs, they are also a specialist for alloy wheel repair and mag wheel repairs.
Be sure to check out the new website, and give them a call to book in your car:
www.tyreways.com.au