Website for Luv2plumb
(Archived)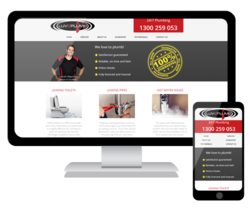 We have launched a new website for Luv2plumb!
Offering emergency plumbing services in Pakenham and surrounding areas, Gareth and his team do a great job that is backed by a real guarantee. These guys love to plumb, and it shows in their company values and customer testimonials.
The website we designed for Luv2plumb is modern and clean, clearly showing the key services they offer. A mobile friendly responsive design (as standard on all new Spinsoft websites) also means customers can easily contact them on mobile devices.
Be sure to check out the new website, and give them a call for all of your plumbing needs:
www.luv2plumb.com.au