Website for Hi-Haul Transport
(Archived)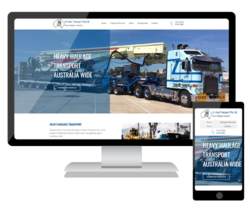 We have launched a new website for Hi-Haul Transport in Bayswater! (take a look)
The team at Hi-Haul Transport have been operating for more than 30 years and involved in transporting beams and equipment for many of the large construction projects across Australia.
With a fleet of trucks and transport equipment they are able to move very large equipment (take a look at their galleries for some very large and impressive transport feats).
Spinsoft
Web Design Melbourne Located in Melbourne's eastern suburbs and interested in our local web design services for your business? Call us now (03) 9801 4202.
The new website is mobile friendly (as standard with all new Spinsoft websites) and is designed with several image galleries to showcase the transport capabilities.
Each gallery is very easy to update and maintain to help the website stay fresh over time.

Be sure to check out their website, and if you need something very big transported give them a call
www.hihaul.com.au