Spinsoft Website Builder Version 2 Officially Launched
(Archived)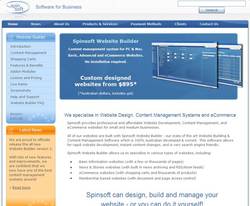 The new version of Spinsoft Website Builder (version 2) is now officially released! As you will notice we have launched a new website to coincide with this release.
Developing a Content Management System
There is a lot of work in developing such a comprehensive content management system, and many issues that need to be overcome particularly with a cross-browser solution. The new interface still supports Internet Explorer 6, as well as newer browsers such as Firefox 2+ and Safari 3+. We are extremely happy with what we have developed, even with the restrictions of some older browsers.
So what's new in Version 2?
The new version of the software is more than an upgrade, it's actually a complete rewrite of the system with many new features. This includes interface improvements, new sections and much more, some of which is discussed below.
Interface Improvements
The new interface has a couple of major changes and a whole new look.
Cross browser support
Expandable Interface, so you can make use of your large monitor
The menu is on the left and is collapsible, you can even pin open the different menu sections.
Lists with more details about each item such as product prices.
Faster loading and the ability to refresh different areas individually.
Built in help tips so you don't need to chase down documentation.
Users of the version 1 interface will find everything pretty familiar, even with all of the changes.
Drag N Drop Page Editor
The new Drag N Drop page editor is incredible, it really changes the way you edit your website and gives you heaps of flexibility. You now literally look at your website and drag panels around your page, edit panels or add new panels.
This new method of editing your website is very intuitive and once you get the hang of it you can come up with some pretty interesting designs. We can also add new types of panels for you to use, and already have a bunch of interactive JavaScript panels planned.
New Sections
There are some completely new sections in addition to the new Page Editor, these include the Statistics, News Articles and Media Library sections. There is also a new Product Editor list mode section. Every other section has been improved in some way.
And More...
Pretty much every aspect of the system has been improved, it is impossible to list them all but here are some key improvements:
New rich text editor, including a new insert image and insert media dialog.
Multiple image and file uploading with the upload queue.
Upload images from anywhere, without having to go back and forth between the image library.
Multiple images and files per product and news articles.
Many new product options, a new way they are displayed on your website and bulk discounts.
New shipping methods including Australia Post and a really impressive virtual box packing system.
New customisable template elements, including new panel tops and bottoms which are very useful.
Heaps of useful panels in the Drag N Drop page editor.
Add as many custom or automatic menu's to your website as you need.
Lots more!
What's next?
The next major item on the roadmap is the Newsletter Module which is currently in development and should be available in the near future. We also still have a huge list of new features that we want to add, and many interface features and useful tools.
If you have any feedback, suggestions, bug reports or feature requests, be sure to let us know.