Website for Wood Shop Fittings
(Archived)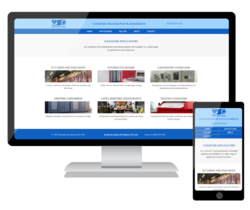 We have launched a new website for Wood Shop Fittings in Bayswater! (take a look)
WSF is a family business that has been in the coolroom industry for more than 70 years and helps businesses all over Victoria.
Combining design, manufacturing and installation they provide complete coolroom solutions for small and large projects in a wide range of industries..
Being part of the business for so long, Kathy and her son Kim have seen first hand just how much everything has changed, not only the landscape in Bayswater but also the marketing landscape.
Establishing the first online presence for the business to help with marketing and provide information to customers, the new website is mobile friendly (as standard with all new Spinsoft websites) and includes pages to highlight the product applications and showcase the work they perform.

Be sure to check out their website, and if you need a small or large coolroom manufactured for your business, give them a call.
www.woodshopfittings.com.au
Spinsoft
Web Design Melbourne Located in Melbourne's eastern suburbs and interested in our local web design services for your business? Call us now (03) 9801 4202.