Website for Beaglier Books
(Archived)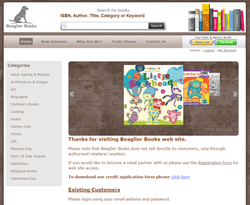 Beaglier Books is Australian owned and operated, with strong family values and a focus on quality support for their customers with fast and reliable delivery.
Being bookworms with a strong passion for books, Beaglier Books search the globe to find popular and boutique books, including those not found in Australia before. With a wholesale focus, they supply a diverse range of retailers including book stores, gift shops, hospitals, educational re-sellers, museums, galleries, pharmacies, toy stores and more.
The new website was built using the Spinsoft CMS E-Commerce Module, which also leverages off the Product and Membership module to offer wholesale tiers and flexible pricing options.
Be sure to check out their website:
https://www.beaglierbooks.com.au